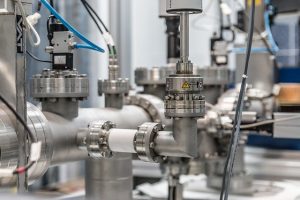 A drum pump is a portable pump designed to make it easy to empty barrels, drums, tanks, IBCs, carboys, and other such containers. The size of the containers used to deliver commercial and industrial fluids (commonly 100 liters and up) makes it impractical or impossible to get liquids out by simply tipping them.
Why A Drum Pump?
The major benefits of a drum pump are safety and convenience. With the right design options, a drum pump can easily transfer chemicals of virtually any sort from virtually any container.
Step 1: Determine Your Application Requirements
To pick the right pump components and accessories, you need to start by developing a clear understanding of how and where you intend to use the pump. Consider each of the following qualities:
* Required Flow And Head: High flow rates may be necessary to empty large containers. High head (i.e. pressure) capability may be necessary for high-viscosity fluids or applications where the fluid is to be pumped upwards. For example, transferring liquids to a higher floor or the top of a machine will typically require higher head capability.
* Chemical Name And Type: It's absolutely necessary to fit the pump to the precise fluid being transferred so that the pump's tube materials are properly chosen to fit the application. The flammability or combustibility of your liquid should also be considered.
* Fluid Temperature: Depending on their material and length, drum pump tubes have limits for fluid temperature. Material selections need to be altered to accommodate higher temperature fluids.
* Specific Gravity And Viscosity: Drum pump performance will change when a fluid's viscosity exceeds 1cP or its specific gravity exceeds 1.0. Pump design and motor sizing should be changed to accommodate dense fluids.
* Container Size: Drum pump tube length is dictated depending upon the container being used. A standard 200-litre drum, for example, calls for a pump tube length of 100 cm. Smaller lengths are typically required for smaller containers, while larger ones (like tanks and IBCs) require longer tubes. Tube length can be customised, if necessary, to accommodate non-standard containers.
* Motor Preference: Depending on the operational environment and the fluid being pumped, certain motor types may be more or less appropriate. Common options include air, electric, and explosion-proof electric. Note the voltage required for electric motors.
Step 2: Select Pump Series And Tube Material
With a firm idea of your specific application requirements, you're ready to pick out the appropriate FTI pump.
You'll need to select tube materials that are compatible with the fluid you're moving to. Standard outer tube materials include polypropylene, PVDF, CPVC, 316 stainless steel, and pure polypropylene/PVDF.
A chemical resistance guide will help you match your liquid to the appropriate outer tube material. See our 'useful info' page for several chemical resistance guides.
Remember that barrel pump tubes contain additional materials besides the outer pump tube material which will come into contact with the fluid being pumped.
Step 3: Select FTI Motor
Based on the information collected about your motor preferences/requirements, pick a motor from the tech flier. Note that not all pump series can be combined with all motors.
If you are pumping a flammable or combustible material or operating your pump in a hazardous area, you should use an air drive or explosion-proof electric motor, a stainless steel tube, and our static protection kit.
Step 4: Add Accessories As Required
* Hose: Flexible PVC
* Drum Adapters: This improves the fit of the tube in the drum. Manufactured in a range of different materials.
* Flow Meter: Measures liquid pumped
* Static Protection Kit: Essential for maximum safety when drum pumps are used to move flammable or combustible liquids.
* Filter/Lubricator Assembly: Improves air supply to air drive motors; ideal for use in conditions with questionable air quality.
* Strainers: Prevents foreign object damage to your pump.
* Nozzles: Controls your pump's liquid flow.