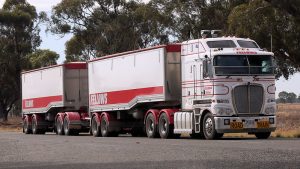 You just finished your HGV training and it is time for you to take your practical test. The test lasts around 1 1/2 hours. It includes the road drive, controlled stop, reversing exercise and "tell me show me" questions. Your instructor will have discussed the test scenario with you and trained you according to the standard necessary for passing the test; you can find instructors at Surrey and Hampshire HGV Training. The following are our top tips that will help you obtain the results you are looking for.
Top 20 Tips
1. Make progress – this is very important You need to make progress wherever it is safe to so. You need to show that you can keep up with traffic and that you are aware of the speed limit.
2. Forward plan – don't wait until the last minute for everything. Always look ahead. Keep in mind that it takes longer to stop a truck than it does a car.
3. Use the reversing marker – when the marker attached to the rear mudguard on the truck is used it will help to ensure that you can perfectly get the back part of your truck into a box. Your instructor should show you how to do that.
4. Licence – remember to bring both parts of your licence (as well as your theory test certificate). You will not be able to take the test without having those documents.
5. Pre-drive – it is not recommended to train for many hours on the day of your test. Instead, it is important to be ready and refreshed, and not drained and tired. It is recommended that you take a 40-60 minute pre-drive.
6. Use your mirrors –  a very important factor before you do anything (slow down, change gears, speed up, move off, etc) is to make sure that you check your mirrors.
7. Brakes to slow, gears to go – it is not acceptable to use your gears for slowing down and will cost you fault. Brakes are used by a competent driver to slow and then choose the right gear to move forward.
8. Familiarise yourself with the test area – you won't know what the test route is ahead of time. However, it is a good idea to become familiar with the overall testing area.
9. Stopping – on several occasions you will be required to stop your vehicle when it is safe to do so. Whenever the test examiner requests that you stop, don't keep driving for an additional 1/2 mile. Safely stop as soon as you can, apply your handbrake, and then cancel the indicator and choose neutral.
10. Face forward – when dismounting and mounting the truck, face forward. Use the steps and handrails.
11. Be refreshed – the night before taking the test, go to bed early.
12. Smooth ride – keep in mind the examiner is human. Like everyone else, he will appreciate a controlled and smooth drive.
13. Meet oncoming traffic – whenever you are meeting oncoming large vehicles, make sure you are prepared to slow down or stop your vehicle as necessary. It is a lot easier to assess uncertain situations when moving slowly or stationary.
14. Vehicle checks – conduct a pre-use vehicle check before taking your test. While performing the check you can go over all possible tell me show me questions that might be on your test.
15. Seat belt – when performing the reversing exercise, take off your seat belt. It will get in your way. After you have completed the manoeuvre, don't forget to put it back on.
16. More mirrors – you always need to check your blind spots and mirrors whenever moving off from a stationary position.
17. Dress appropriately – it isn't necessary for you to wear a suit. It is sufficient to work comfortable attire and work boots.
18. Don't dwell on your mistakes – remember that you are allowed to commit up to as many as 15 minor faults and pass the LGV practical driving test still. If you happen to make a mistake on the test, just move forward and forget about it. You will tend to make more mistakes if you dwell on past ones.
19. Reversing exercise – if necessary, you are allowed up to 2 shunts. Make sure of a shunt if you need it. You are also allowed to get out of your vehicle one time. You should do this if you need to make sure you have placed the rear part of the truck in the right place.
20. Turn off your mobile.